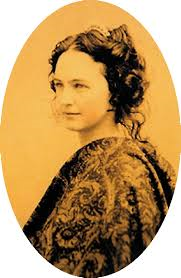 Custer's Soul Mate, Elizabeth Bacon Custer, was not only Intelligent and Gorgeous, but charming, alluring, sophisticated and a perfect social foil for her often brash and egotistical husband, George Armstrong Custer. "Libbie" Bacon was an educated and refined daughter of a local judge and his wealth and political connections assured the attractive socialite a prominent standing among the elite of Monroe, Michigan.
Custer was just an occasional resident of Monroe, where he lived off and on with his half-sister, Lydia Ann Reed. Due to that fact, and their differing social levels, the refined Miss Bacon and Custer, son of the town smithy in New Rumley, Ohio, did not meet as children. Immediately after high school, Custer enrolled in West Point, where he utterly failed to distinguish himself. Several days after graduating last in his class, he failed in his duty as officer of the guard to stop a fight between two cadets. He was court-martialed and saved from punishment only by the huge need for officers with the outbreak of the Civil War.
Libbie's first impression of Custer was to last a lifetime. She called it 'that awful day.' It occurred in October 1861 when the young Union officer was home on leave from the army. He and a friend had visited a local tavern and imbibed to excess. The two drunks staggered through the streets of Monroe past the Bacon residence on their way toward the Reed home, half a mile south. Libbie and her father happened to observe the disgusting revelers. The incident, however, cured Custer of drinking alcohol for the rest of his life.
Elizabeth Clift Bacon was born April 8, 1842 and was raised in Monroe, Michigan. The sole surviving child of Judge Daniel Stanton Bacon and Eleanor Sophia Page, young Libbie was catered to and sent off to boarding school at the Young Ladies; Seminary and Collegiate Institute, known as Boyd's Seminary, after her mother died when Elizabeth was 12. The judge rented out their house and took a room at a hotel. Libbie graduated from Boyd's in the spring of 1862, valedictorian of her class. She was cute and precocious, 5'4″ tall,  with chestnut-brown hair and light blue-gray eyes.
Custer and Libbie formally met at an 1862 Thanksgiving party at Boyd's Seminary. Custer was immediately smitten with her and courted her by showing up wherever she happened to be and calling on her at home. She, on the other hand, was not too sure about him. Her parents had raised her in the Presbyterian Church, and there was the social disparity. Besides, Libbie was not exactly wanting for suitors. Judge Bacon noticed Custer's growing interest in his daughter, and decided to put an end to the relationship. He did not fancy his
only child married to a common military man. The judge made Libbie promise to not see Custer again or write to him after he had returned to duty in the Civil War.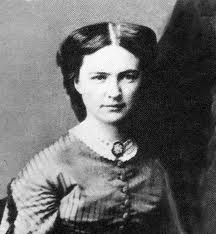 Custer soon became known for numerous daring exploits. He was featured in Harper's Weekly, one of the most prestigious publications of the day. This kept him in the public eye and heightened his standing among residents of Monroe, which probably explains Libbie's willingness to continue the relationship from afar, with messages traveling via a go-between. Libbie confided to her diary.
'He is noble, brave and generous and he loves, I believe, with an intensity that few know of or as few ever can love. … He tells me he would sacrifice every earthly hope to gain my love and I tell him if I could I would give it to him. I told him to forget me and he said he never could forget me and I told him I never should forget him and I wished to be his true friend through life but it is no use to offer myself as friend for he will never think of me otherwise than his wife. … Oh, Love, love, how many are made miserable as well as happy by all the powerful influence.'
In September 1863, George and Libbie met again at a masquerade ball in Monroe. Afterward, Custer wrote to Judge Bacon for permission to correspond directly with his daughter. Shortly after this, Custer was promoted to Brevet Brigadier General, and Judge Bacon relented. Libbie and George corresponded for a time and on February 9, 1864, Custer and Elizabeth Clift Bacon were married in the First Presbyterian Church of Monroe, Michigan, in a storybook wedding with a standing-room only congregation of witnesses. Libbie's former schoolmaster, Reverend Boyd, performed the ceremony. Custer, with short hair and wearing a coat that cost $100, chose his adjutant Jacob Greene as his best man. Libbie wore traditional white, and was given away by her father. The couple received such gifts as a silver tea service from the 7th Michigan Cavalry, a silver dinner service from
the 1st Vermont Cavalry, and a Bible from Judge Bacon. Custer presented Libbie
with a gold watch engraved 'E.B.C'.
Custer returned to finish his service in the Civil War pledging his devotion and undying love for Libbie. Libbie's charm and attractiveness helped advance her husband's military career. She socialized with powerful Republican congressmen and senators, countering their suspicions that Custer had ties to the Democrats. Libbie and George had a loving but tumultuous relationship. Both were stubborn, opinionated and ambitious. Despite hardships, they were utterly devoted to each other. She followed him to every assignment, even during the latter days of the Civil War.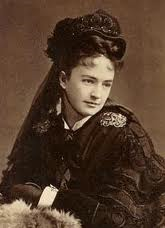 Both George and Libbie thrived on the attention and admiration of the opposite sex. George Custer with his Cavalry fame, his flowing perfumed and golden locks, was nearly a matinée idol of the era. Young women swooned in his presence and the flattered Custer would at least respond with clippings of his luxurious mane and maybe even a clandestine rendezvous. Libbie, surrounded by a bevy of young, handsome and intelligent officers, dying for even a little feminine recognition, would fall all over themselves in her company.
George Armstrong Custer, would be accused of fathering children, with Native-American mistresses, while serving on the Plains, however a rumored bout of gonorrhea during his cadet years at West Point brings into to question his fertility. Also, George and Libbie would remain childless for their entire life.
Libbie faithfully followed her husband to each of his duty stations. She endured the hardships of frontier life without complaint, satisfied to be with the man she loved. Custer in turn was devoted to her, and even faced a court-martial to be at her side at the conclusion of the Hancock Expedition of 1867.
Custer was sent to the Northern Plains in 1873, where he soon participated in a few small skirmishes with the Lakota in the Yellowstone area. The following year, he led a 1200 person expedition to the Black Hills, whose possession the United States had guaranteed to the Lakota just six years before.
As first lady at Fort Abraham Lincoln, Libby set the social tone for the post, and hosted multiple events for the officers and area dignitaries. She was quickly assigned the title Mrs. Major General, but in a letter to her husband, she claimed that it made her sound stuck-up.
In 1876, Custer was scheduled to lead part of the anti-Lakota expedition, along with Generals John Gibbon and George Crook. He almost did not make it, however, because his previous testimony about Indian Service corruption so infuriated President Grant that he relieved Custer of his command and replaced him with General Alfred Terry. However, public and political sentiment forced Grant to reverse his decision, and the Custers went West. Libbie confided to her diary,
"A true cavalryman feels that a life in the saddle on the free open plain is his legitimate existence,"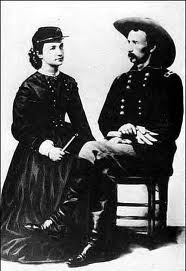 On the morning of June 25, 1876, Custer neared what he thought was a large Indian village and ordered an immediate attack. Contemptuous of Indian military prowess, he split his forces into three parts to ensure that fewer Indians would escape. The attack was one the greatest fiascos of the United States Army. Thousands of Lakota, Cheyenne, and Arapaho warriors forced Custer's unit back onto a long, dusty ridge parallel to the Little Bighorn, surrounded them, and killed all 210 of them. Custer's blunders cost him his life, but the myth would gain him everlasting fame.
Libbie was only 34 at the time of her husband's death. Widows at the time generally remarried, as they had few other options. Libbie returned to Monroe, Michigan, but she soon saw that her financial situation was grim. Her military widow's pension was $30 per month, and after cashing in George's $5,000 life insurance policy, she was left with only $4,760, as the company had deducted $240 because Custer was in a dangerous line of work. She sold one of Custer's horses and auctioned off interest in a family farm, but she knew it wasn't enough to last long. At first Libbie accepted cash gifts from family and friends, but she wanted a better solution.
Shortly after Custer's death, Libbie had been approached by a writer who wanted her to help him write a book about her husband, but after initially agreeing, Libbie realized that the best thing to do was to write the book herself. Detractors, including President Ulysses S. Grant, denounced Custer for having moved forward at Little Big Horn ahead of time, thereby causing his soldiers to be massacred. Libbie quickly rose to his defense, speaking publicly and eventually writing about her life with him. Her first book was Boots and Saddles (1885), followed by Tenting on the Plains (1887) and Following the Guidon (1890).
In 1881 she traveled to Washington to ask for increases in military widows' pensions. Because women weren't supposed to talk about money, this was a difficult effort for her, but she was effective. In 1882 her pension increased to $50; by 1890 the government was paying widows $100 per month in benefits.
By 1885 she began to receive book royalties. In 1886 her stepmother left her a $5,000 trust, and by 1890 her military pension had risen to $100. All these pieces together finally provided Libbie with income for a decent lifestyle.
She worked tirelessly to raise money to erect monuments in Custer's honor. Her efforts were nationwide and demands for her speaking engagements were extremely numerous and profitable.
Throughout her 57 years of widowhood, Mrs. Custer worked untiringly to defend her husband's reputation and transform him into a hero. She influenced a number of writers, and in all her works, her husband emerged as an exemplary son, brother, husband, and conscientious commanding officer. Since the army and the public saw Libby as a model wife and a devoted widow, many Custer critics withheld their comments during her lifetime.
Elizabeth Bacon Custer remained utterly devoted to her husband and never remarried. She died at her home in New York City on April 4, 1933, a few days before her 91st birthday and was buried at West Point next to her husband.
Custer's Soul Mate, Libbie Custer, was certainly intelligent and definitely drop dead gorgeous. What Libbie brought to the relationship, was a grounded knowledge of what was politically and militarily acceptable. George dealt in a dream world of smoke and mirrors, Libbie, especially after her husband's death, proved her mettle and fortitude by forging in her unique way, conveying the message regarding her husband and his legacy.
Bummer