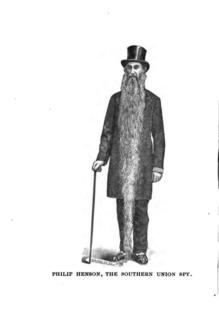 Dixie Spy, Philip Henson, was a Union Hero and clandestine operative, behind Confederate lines during the Civil War. A Dixie Boy, born in Alabama, Henson had an innate ability to subtly ingratiate himself into the Southern fabric and supply military intelligence to his Union handlers, Generals Grenville Dodge and Ulysses S. Grant. Henson's demeanor of being a little slow, was the perfect mental disguise for his undercover operations and insured his success and survival while in harm's way.
Philip Henson was born on December 28, 1827 at Gunter's Landing, Indian Territory, which would become the state of Alabama in 1836. As a young boy Henson traveled with his father, an Indian Agent and the only formal education that he received was at an Indian Mission School, taught by a William Potter. Henson's father was selected to move many tribes to  the Indian Territory in 1836 and his humane treatment of the natives would always be remembered and hold Philip in good stead as he matured and traveled.
When Philip was 12 years old, his father died and he had to find employment, in order to support his mother and 6 siblings. He found work as a mail-carrier, riding long days and nights traversing the route between Huntsville and Birmingham Alabama. Henson worked this route, for Daniel Seavers, for two years and eventually returned home to help work the farm with his mother. After spending several years working on the family farm, Philip struck out on his own and eventually gained experience as a plantation overseer working for several large land owners in Mississippi.
In 1856, at 29 years of age, Philip Henson, had made some money in the employ of plantation owner Thomas Turnbow and struck out for Kansas to seek new opportunities. In late 1857, after splitting his time between Kansas and the Indian Territory, Philip and several young associates journeyed to Mesilla Valley, in present day New Mexico. Henson decided to return to Alabama and in February of 1858, he resumed employment with his old friend Turnbow, in Selma. In August of that year, Philip Henson traveled to Rienzi, Mississippi and would work the next 3 years at a dry goods store in the small town, 15 miles south of Corinth and eventually be promoted to manager.
Our Dixie Boy, married Celestine Hutchinson in 1861 and the two newlyweds decided that being inducted into the Confederate Army was not a wise move, so he gained an exemption from service by returning to his old employment, as an overseer for planter Moore McCauley, out of Corinth.
Several different tales exist regarding how Henson met and was employed as a scout and spy for General Grant's command in the Western Theater. One colorful portrayal details how Henson was recruited and employed by Confederate Post Master General, John Reagan, as a field supervisor for the Southern Postal Service. In this capacity, he traveled the southwest and met former Texas Governor Houston, who suggested that he become a Union agent, who in turn introduced Henson to Congressman Washburne of Illinois, mentor and friend of a young recruiting officer named Ulysses Grant. According to this version, thus began an enduring relationship between the adventurous Dixie Boy and the future Union commander.
Henson is said to have gained the confidence of Confederate General Polk, discovering that two inexperienced Generals, Pillow and Floyd, commanded the strategic forts at Donelson and Henry, informed Grant and this led to the disastrous southern defeats.
Next, Henson penetrates the defenses of Vicksburg, relaying key information to Grant in regards to the interior defenses, rebel morale and canal systems, enabling Grant's successful siege tactics, leading to Pemberton's surrender.
In addition, Henson was also instructed to infiltrate General Bragg's lines and provide information regarding troop movements and dispositions. However, he was arrested and Confederate Brigadier General Philip Dale Roddey relates,
"General: I forward to you, in charge of couriers, Philip Henson, who has been represented to me for the last twelve months as a spy for the Federals……They have reported to me constantly during that time that valuable information has been given by Henson to the Federals. He has papers, but I do not deem them sufficiently satisfactory to permit him to pass through my lines. I believe firmly that the said Henson is a spy, and has been in the service of and the pay of the Federals all that time, and that all his sympathies are with them. I have the honor to be, General, very respectfully, your obedient servant, P.D. RODDEY".
Confederate Major David L. Cummins stated the following regarding Henson,
"Whilst engaged in the secret service department of the Confederate States of America……I became acquainted with a gentleman who was turned over and placed in my custody whom I afterwards learned was Philip Henson, charged with being a Federal spy…… I started with Mr. Henson to Mobile……The prisoner, at all times and every day, demanded and pleaded for a trial which, so far as I know, was never granted, but always refused to prisoner for the purpose of corresponding with General Bedford Forrest, who had preferred the charge. Mr. Henson was then removed to what was at that time called the "Hitchcock press".
Confederate Orderly Sergeant of the 15th Alabama Regiment, Louis Galle, recalls,
"And upon placing Mr. Henson in said sweat box we chained him with the sweat box chain which prevented him from moving and he was forced to remain there alone, and only liberated from there at one time, so far as I can remember, and that was on 4th of July, 1864, when the great Yankee spy was in heavy irons and chains paraded in front of the assembled populace of Mobile, Ala., that was the manner in which we saw proper to celebrate that day".
After spending nearly six months in chains, Philip Henson escapes, makes his way to the Union lines and returns to General Dodge's Headquarters, just prior to the Confederate surrender. His handler states on his appearance, "Well, Phil, the damn rope has not been made yet to hang you".
Confederate General Nathan Bedford Forrest described Henson as "the most dangerous Union spy operating within the Confederacy".
When Grant was elected President, he employed Henson as a Special Secret Service Agent, to investigate Lincoln's assassination and to explore every detail and lead in relation to the murder. The investigation would last 20 years and would end with Grant's death, never giving Henson the approval to release the findings.
Dixie Boy, Philip Henson, would relate his adventures to George Sibley Johns, in his 1887 interview,
"I don't know how, but I believe that God was with me and preserved me for what I had to do. I never felt a fear of death. When I was ordered to be shot once, I told my wife that I did not believe that I would be shot, but if I should be I was ready to die for the cause, as my work would be finished".
Henson died at his oldest son's house in Paris, Texas on January 10, 1911. He and his wife are buried at Henry Cemetery, in Corinth, Mississippi.
It's no wonder, due to Henson's stealthy and secret missions, that gaps and anomolies exist in his Civil War narrative. The truth is irrefutable, Philip Henson was definitely a Dixie Spy and a Union Hero.
Bummer