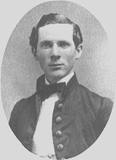 Irish New York Patriot, Patrick O'Rorke, was not only a Gettysburg Unsung Hero, but an inspiring example of the American Dream come true. O'Rorke, from humble beginnings, overcame the stigma attached to Irish immigrants of the era and utilized the discipline, instilled by his mother, to succeed in life and set the standard for future generations of Irish-Americans. Although overshadowed, in Civil War history, by other heroes that fought and lived to tell their stories, O'Rorke died young and in battle, his honor, legacy and bravery, left to be told by others.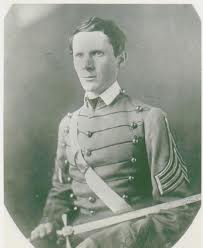 Patrick Henry O'Rorke was born March 25, 1837 and when Patrick was an infant his parents immigrated from County Cavan, Ireland, eventually settling in Rochester, New York. Even as a youngster, Patrick was a brilliant student and in 1853 he graduated first in his class from the Rochester public school system. After graduation, his father died in a work related accident, leaving the family penniless. O'Rourke declined a scholarship to the University of Rochester and at his mother's request, began working as a marble cutter at the Hibbard Marble Works, in order to support his family. In 1857, Patrick received an appointment to the United States Military Academy at West Point and graduated first in his class in June of 1861. O'Rorke, one of the first Irish-born immigrants to enter West Point, was commissioned a Second-Lieutenant and assigned to the Corps of Engineers.
O'Rorke was immediately a part of the Civil War action, taking part in the battle at Blackburn's Run on July 18 and three days later having his horse killed under him at Bull Run. In August of 1861 he was sent to Fort Monroe and by the year's end was taking part in the Port Royal expedition, which sailed on October 29, under the command of General Thomas W. Sherman. O'Rorke showed rare skill and talent as an engineer officer, constructing the batteries on Tybee island and overseeing the reduction of Fort Pulaski. At Fort Pulaski he was employed in a reconnaissance role and upon the Fort's surrender on April 10, 1862 he was selected as one of the officers to receive the surrender.
In July 1862, O'Rorke received a furlough and returned home to Rochester where he married his childhood girlfriend, Clara Wadsworth Bishop. Soon after his marriage, he was placed in command of the newly formed 140th New York Infantry Regiment made up mostly of Irish and German volunteers. He was the first member in his class to command an infantry regiment. Faced with a new set of challenges and in charge of a thousand men, responsible for their training and welfare, O'Rorke rose to the challenge, winning the loyalty and admiration of his men.
That September of 1862, O'Rorke and the 140th regiment of the New York volunteers, was placed in Warren's brigade, Sykes division, 5th corps and became one of the best on the Potomac, due largely through O'Rorke's discipline and leadership. At Fredericksburg, O'Rorke's troops came under fire despite not being actively engaged, being held in reserve near the town. During the Chancellorsville campaign O'Rorke would for a time lead the entire brigade and during both battles would be duly promoted, becoming brevet major at Fredericksburg and brevet lieutenant-colonel at Chancellorsville.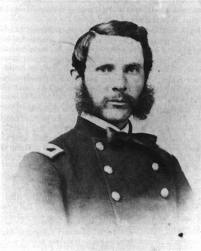 On July 2, 1863, at Gettysburg, the chief engineer of the Army of the Potomac, Brigadier General Gouverneur K. Warren,  recognized the tactical importance of Little Round Top and quickly sought Union troops  to occupy it before the Confederates could. Brigadier General Stephen H. Weed was in  command of the 3rd Brigade, which planned to take the top, and General Warren was  looking for additional units to defend the important  high ground.
Colonel O'Rorke was leading the 140th New York to support heavy fighting near the Wheatfield, when he was spotted by General Warren, who urgently requested that O'Rorke order his 140th New York to turn-aside and defend Little Round Top. Colonel Patrick O'Rorke understood when General Warren's requested, "Never mind that, Paddy. Bring them up on the double-quick and don't stop for  aligning. I'll take the responsibility for the change in decision." O'Rorke immediately ordered his 140th New York to the summit of the lightly protected high ground. O'Rorke came up to where his regimental colors were, and grabbing them in one hand and his sword in the  other, he jumped up on a large rock to be better  seen and to encourage his men. "Here they are, men!"  he shouted, "Commence  firing!" Colonel O'Rorke was at the front of his 140th New York Regiment, rushing downhill off Little Round Top. Patrick O'Rorke was shot through the neck by a Confederate sharpshooter and died instantly. He was only 26 years old. This critical 140th New York movement backed the heavily engaged and nearly overrun Federal forces of the 16th Michigan Infantry Regiment and ultimately reversed a nearly successful right flank break-through by the Texas 4th and 5th Regiments.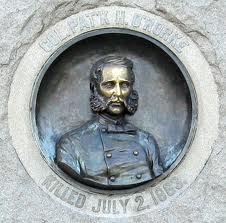 O'Rorke was not the only casualty, 25 other men in the 140th were killed, 89  were wounded and 18 presumably were captured. Colonel O'Rorke was posthumously promoted to brevet colonel and cited by the U.S. Army for "gallant and meritorious service", at all of the battles he was engaged in. He was given a full military funeral and buried in the Catholic cemetery on Pinnacle Hill. When that cemetery closed, he was moved to Holy Sepulchre Cemetery in Rochester. His wife Clara, devastated by his death, later entered the Sisterhood of the Sacred Heart.
The monument of the 140th New York at Gettysburg is placed on the spot, on top of Little Round Top where O'Rorke was killed. It was the "united wish" of the surviving members of the regiment that his likeness be included as part of the monument, which also bears the Maltese cross of the 5th Corps.
Patrick Henry O'Rorke, was a genuine Irish New York Patriot and definitely one of Gettysburg's Unsung Heroes.
Bummer