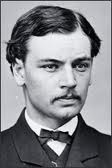 President Lincoln's son, Robert, the only child to live to adulthood, is sometimes remembered, as the other Lincoln. Lincoln's crossed-eyed son, who gained the nickname, Prince of Rails, on the train trip to Washington, had an almost distant relationship with his father. During Robert's formative years, his father, was riding the circuit, attending to his legal duties and had few if any fatherly moments with his son. Robert Lincoln began to resent the relationship his father had developed with courtroom associates and especially the young attorney Ward Hill Lamon. Robert was openly jealous of the time his father spent with his younger brothers, Eddie, Taddie and Willie. Lincoln's three siblings would not live to maturity and after President Lincoln's assassination, Robert was left to care for his mentally unhinged mother. The fame and notoriety as the son of Abraham Lincoln, was a tremendous burden, that shaped Robert Lincoln's future, career, mindset and politics for the remainder of his life.
Robert Todd Lincoln, a native of Springfield, Illinois, was born in, 1843. His early education, in Springfield, was not adequate enough and he failed his entrance exam at Harvard, so his parents enrolled him at a preparatory boarding school at Exeter in New Hampshire. After a year at this school, the youthful Lincoln was accepted at Harvard, becoming a member of the class of 1864, and later spoke to a reporter of this period of his life and his relationship with his father,
"During my childhood and early youth he was almost constantly away from home,
attending courts or making political speeches. In 1859 when I was sixteen and
when he was beginning to devote himself more to practice in his own
neighborhood, and when I would have both the inclination and the means of
gratifying my desire to become better acquainted with the history of his
struggles, I went to New Hampshire to school and afterward to Harvard College,
and he became President. Henceforth any great intimacy between us became
impossible. I scarcely even had ten minutes quiet talk with him during his
Presidency, on account of his constant devotion to business."
Robert Lincoln returned often to visit his family at the White House. The New York Herald described the President's oldest son,
"Bob, the Prince of Rails, starts for Cambridge to-morrow. He is sick of
Washington and glad to get back to his college.He does everything
very well, but avoids doing anything extraordinary. He doesn't talk much; he
doesn't dance different from the other people; he isn't odd, outré nor strange
in any way."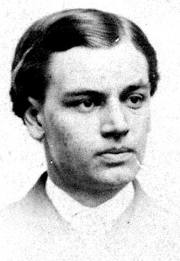 Lincoln was much maligned for not joining the Union Army and many of President Lincoln's advisors and staff pleaded with the First Family to allow Robert to serve. Senator Ira Harris, insisted to Mary Todd Lincoln in 1863, that she let her son enlist and was told,
"Robert is making his preparations now to enter the Army; he is not a shirker -if fault there be it is mine, I have insisted that he should stay in college a little longer as I think an educated man can serve his country with more intelligent purpose than an ignoramus."
The First Lady's seamstress, Elizabeth Keckley wrote of a conversation between President Lincoln and his wife regarding Robert's service,
"We have lost one son, and his loss is as much as I can bear, without being
called to make another sacrifice," she said.
"But many a poor mother has given up all her sons," mildly suggested Mr. Lincoln," and our son is not more dear to us than the sons of other people are to their mothers."
"That may be; but I cannot bear to have Robert exposed to danger. His services are not required in the field, and the sacrifice would be a needless one."
'The services of every man who loves his country are required in this war. You should take a liberal instead of a selfish view of the question, mother."
President Lincoln wrote General Grant, requesting that Robert be commissioned and assigned a staff position, with the General's command. Early in 1865, Captain Robert Todd Lincoln's main duty, as a staff officer, was receiving visitors and conducting tours of Grant's headquarters. He related to one of Grant's aides, a brush with death, that occurred, as he was boarding a train bound to Washington from New York. He slipped and fell between the cars and just before being crushed, someone grabbed him by the collar and lifted him back upon the platform. The hero was the famous actor Edwin Booth, brother of his father's assassin, John Wilkes Booth.
Captain Lincoln accompanied General Grant to Appomattox, witnessed Lee's surrender and was in Washington, on April 14, 1865, was informed of his father's assassination and was at his father's side when the President died. Lincoln resigned his commission in June of 1865 and accompanied his grieving mother to Chicago. Robert Lincoln graduated law school in Chicago and commenced his practice, much like his father, representing large railroad concerns, the only breaks were a four-year appointment as Secretary of War under Garfield and successor Chester A. Arthur and as minister to  Britain under President Harrison. During this period his mother's mental health had severely deteriorated and Lincoln committed his beloved mother to an asylum. Much of his time was spent defending and correcting the numerous biographers and historians regarding his father's legacy. One confidant and friend of President Lincoln, received particular ridicule and scorn, that being Robert's old nemesis, Ward Hill Lamon.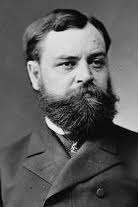 One of Lincoln's major clients was the Pullman Company. When the founder died, Lincoln  became president of the company, and in 1911 he was elected chairman of the board.  This position made Robert Lincoln a millionaire and he remained in control of this concern until his death in 1926.
Robert Todd Lincoln had been recruited several times for possible Presidential consideration, however Robert had an aversion to the Executive Office, having been present at the deaths of three Presidents, Lincoln, Garfield and McKinley. He was satisfied just to be President Lincoln's Son or The Other Lincoln.
Bummer