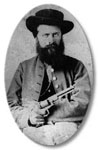 Tennessee Guerrillas, Raiders and Bushwhackers raised havoc among the Union forces and sympathizers during the Civil War. Many of these irregulars claimed an affiliation with the Confederate Army, but their depredations were mainly self-directed and terroristic in application.
One of the more notorious of these terrorist leaders was Captain Ellis Harper. He was born in 1842, just south of the Kentucky line in Richland, Tennessee. He enlisted in the Confederate Infantry in 1861 and was captured at Fort Donelson. By 1862 he was confined to a prison in Springfield, Illinois and soon there after made his escape.
Rumor has it, that when Harper returned to Tennessee he and his followers were mustered in by General John Hunt Morgan, who procured for him a commission as Captain. Based on his knowledge of the local terrain and residents, Morgan assigned Harper to recruit as many locals as possible, to derail and attack trains, burn bridges and harass Union supply convoys at will. The townsfolk and rural farmers of North Central Tennessee and Southern Kentucky were also prey to this gang of robbers and murderers.
In May of 1865, Ellis Harper and his raiders surrendered to Union Infantry near Gallatin, Tennessee and he returned to his home. Champ Ferguson, another guerrilla leader, had been arrested and imprisoned in Nashville for murdering scores of Tennessee residents and soldiers. In addition, guerrilla chieftain, (Sue Munday), Marcellus Jerome Clarke, was hanged in Louisville, Kentucky.
Ellis Harper, fled for his life and virtually disappeared for five years. He only returned when he was mysteriously granted pardons by the Governors of Kentucky and Tennessee. Captain Harper married and moved to Lebanon, Tennessee where in 1908 he was shot and killed over a political argument regarding prohibition.
At Harper's funeral, his eulogy stated;
"He was a man of strong likes and dislikes and quick to resent an insult, for whoever offended him was sure to bring a fight upon himself. He could never forget an injury, but he was a staunch friend to those so fortunate as to gain his esteem…"
Bummer